Tasty Sloppy Joes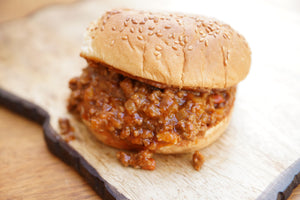 In my continuing quest to find quick and easy meal solutions I decided to try making some Sloppy Joes as I have seen several recipes lately on daytime tv and on Pinterest.
When I made this recipe, my husband's immediate reaction was "mmmm, tasty!" hence the title of this post : )
This recipe is fairly simple and really only dirties one pan which is always a bonus for me, the less dishes the better.  You can throw everything directly in the pan and once it is all mixed together leave the pan on the stove to simmer for 30-50 minutes.
I prefer my food on the sweeter side but if you don't then you can omit the sugar all together (the ketchup will already provide some sweetness).
Ingredients
3 Tablespoons butter
1 white onion, finely diced
½ cup bell pepper
2 cloves garlic, minced
2 Pounds ground chuck (medium ground beef)
2 tablespoons brown sugar (optional)
4 tablespoons Dijon mustard
4 tablespoons Worcestershire Sauce
2 tablespoons chili powder
2 teaspoon smoked paprika
1 ½ cups ketchup
¼ cup Apple Cider Vinegar
Salt and Pepper to taste
Buns for serving, toasted with garlic butter
Instructions
Melt butter over medium heat in deep sauce pan before tossing in the minced onions.
Saute the onions until translucent, then add the peppers and garlic.  Stir until combined and saute for another 2 minutes. 
Add the ground beef, stir until the meat is no longer pink.
Add the remaining ingredients, mix well to combine, cover and simmer on low heat for 30-50 minutes. 
Ladle the Sloppy Joe mixture onto toasted buns that have been brushed with garlic butter.
Spoon any leftovers into The Burger Master to have a tasty quick meal ready in the freezer.
Here's the video:
Leave a comment
---
Also in Blog - Innovative New Recipes!