Healthy Grilling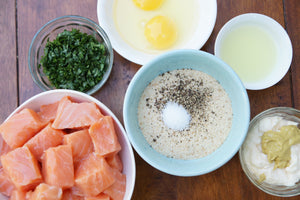 Grilling season is finally here, and that means there is much more to look forward to then just the standard hot dogs and burgers!  There are a variety of healthy grilling options that will make your summer barbecues tastier than ever.
Seafood
Seafood is loaded with healthy fats and lean protein making it a healthier alternative to beef.  Make sure to brush fish fillets with olive oil to prevent them from sticking to the grill.  
You can also make burger patties out of ground fish - try this easy recipe for Salmon Burgers.  
Using a freezer container can help to quickly form and chill your fish burger patties so that they don't fall apart on the grill.  A freezer container will also allow you to freeze extra patties for next time so you can take advantage of bulk pricing for meats and you will always have a healthy option to throw on the grill when hunger strikes.
Poultry
Of course there are alternatives to beef burgers such as turkey and chicken burgers - but you can also try grilling marinated chicken like this Chicken Souvlaki recipe.  The great thing about marinated chicken is that it freezes beautifully so even if the weather is not great outside you can still have this tasty grilled dish indoors (that is if you didn't eat it all the first time around!).
I hope you try some of these healthier grilling options this summer and please use the comment section below to share some of your favorites as well!
Check out many more recipes and healthy grilling tips on www.shapeandstore.com  
Leave a comment
---
Also in Healthy Grilling