The Best Meatball Recipe You've Never Tried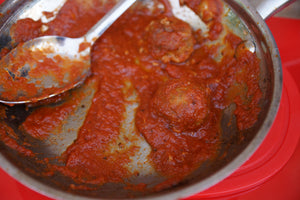 Now that fall is here it's time to start stocking the freezer with some comfort foods, like meatballs! This task has now become so much easier because I have an awesome tool to help me make 32 meatballs at once (our new product, the Meatball Master).  All I needed to get started was to find a great meatball recipe, which I did.  I happened to stumble upon an episode of the Barefoot Contessa where chef Ina Garten was making Italian Roasted Meatballs (you can see her preparation here).  I made some adjustments to the recipe based on my preferences and also to make enough to fill an entire Meatball Master tray. These meatballs are so moist because liquid (wine and water) is added directly to the mixture.  For your family you can substitute the ground meats you enjoy most, I just used ground chuck.  The original recipe says to roast the meatballs in a 400F oven but I prefer to just cook them in simmering tomato sauce (sooooo much easier).
If you give this recipe a try let me know what adjustments you made and how they turned out.  My husband loved them and he is a tough customer!
Ingredients
2 pounds ground chuck
5 cups dry seasoned bread crumbs 
1 cup grated parmesan cheese 
3 garlic cloves, minced 
¼ cup chopped fresh parsley leaves 
1 tsp Kosher salt
¾ tsp freshly ground black pepper 
2 extra-large eggs, lightly beaten 
1/2 cup dry red wine
½ cup water
Directions
In a medium sized pot bring your favorite tomato sauce to a simmer.
Drop desired amount of meatballs into the sauce, cover the pot and simmer until the meatballs are cooked through (no longer pink in the middle).
Serve over pasta or rice.
1 Response
Leave a comment
---
Also in Healthy Grilling