Homemade Take-Out: 5 Spice Pork Stir-Fry and Mandarin Fried Rice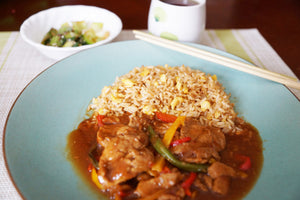 I was watching Rachael Ray the other day and she made a delicious looking `take-out`` meal - 5 Spice Pork Stir Fry.  Unfortunately, I am the only person in the house with an adventurous palate (and I use that term lightly, I am not really that adventurous but compared to my family I am).  My point being, if I make this recipe I would be the only one eating it.  Luckily I can use my freezer containers to store the extra servings so that I can grab a quick `take-out`style meal from the freezer the next time I am in the mood. 
I paired the stir fry with a classic recipe for Mandarin Fried Rice by Ming Tsai.  I had never tried this recipe before but I was inspired to try it since I had just met Ming at a show in Chicago! 
The rice was delicious, it made for quite a satisfying lunch!
Since I already had the rice frozen into portions, I just added the leftover Pork Stir Fry to it. This weekend, while the rest of my family dined on spaghetti and tomato sauce, I had a delicious ready made `take out meal`` right at home in the freezer.  I just popped out 4 frozen portions, and while it heated in the microwave I sauteed some bok choy with garlic, ginger and peanut oil as a side dish. So yummy and much better for me then food from a restaurant which I am sure uses much more oil.  Give these recipes a try tonight!
Recipes used:
Rachael Ray`s 5-Spice Pork Stir-Fry 
1 pound trimmed pork loin or tenderloin

3/4 cup chicken stock

3 tablespoons Hoisin sauce 

3 tablespoons mango chutney, preferred brand Patak's 

2 tablespoons Tamari (gluten-free soy sauce)

1 teaspoon Chinese five-spice powder

2 slices ginger root

1 teaspoon (for mild spice) to 1 tablespoon (for very spicy) Sambal Olek or other hot chili paste or sauce

Salt and pepper or Szechuan pepper

3 to 4 tablespoons peanut oil or other high-temp/stir fry oil 

1 3/4-pound package trimmed green beans, halved on bias  

1 large white onion, quartered and sliced 

1 large red and yellow pepper

4 cloves garlic, sliced or chopped 

1/3 cup dry sherry

2 teaspoons toasted sesame oil 
Directions
Place the pork (wrapped in plastic) in the freezer for a few minutes to firm it up for slicing.   

Place stock, Hoisin, chutney, Tamari, five-spice, ginger and chili paste in a small pot. Bring to a low boil and simmer to condense and combine flavors.  

Remove pork from the freezer and slice into thin strips/bite-size thin pieces.  

Heat a large, round-bottom pan over high heat with oil, 2 turns of the pan.  Brown the pork in small batches and remove to a plate.

Add more oil if necessary and stir-fry the beans (I also added some red and yellow peppers) and onions next, 3-4 minutes, until browned at edges and tender-crisp. Remove and reserve.

Add garlic, salt and pepper, sherry and reserved vegetables and pork. Remove ginger slices from sauce, add sauce to pan and drizzle with sesame oil.  
Ming Tsai`s Traditional Mandarin Fried Rice
Ingredients
Canola oil

3 eggs

2 tablespoons minced garlic

2 tablespoons minced ginger

1 bunch chopped scallions, green and white separated

1 lapchang, diced (Chinese sausage), can substitute with 4 strips of cooked bacon

8 cups cooked, day-old long grain rice

3 tablespoons thin soy sauce

1/2 teaspoon white pepper

Salt to taste
Directions
In a wok, add 2 tablespoons of oil and quickly soft-scramble the eggs.

Remove the eggs.

In the same wok, coat with oil and stir-fry garlic and ginger.
Add white scallions and lapchang.
Add rice and mix thoroughly.
Add soy sauce, white pepper and scrambled eggs.
Check for seasoning. Serve immediately.
1 Response
Leave a comment
---
Also in Blog - Innovative New Recipes!